Justice League is 2015 film based on DC Comics' Justice League. It was released July 4th, 2015. 
A mysterious entity, Darkseid, comes to Earth in search of the Mother Box, a super powerful source of energy capable of almost anything. To prevent Darkseid from finding the Box, Superman, Batman, Wonder Woman, Green Lantern, Aquaman, and the Flash are brought together by a Martian soldier, J'onn J'onnz, who was stranded on Earth in a battle with Darkseid's Parademons. Together, the heroes must save the Earth before Darkseid gets his hands on the Mother Box.
JL
Henry Cavill as Kal-El/Clark Kent/Superman
Christian Bale as Bruce Wayne/Batman
Adrianne Palicki as Princess Diana/Wonder Woman
Ryan Reynolds as Hal Jordan/Green Lantern
Taylor Kitsch as Arthur Curry/Aquaman
Garrett Hedlund as Wally West/Flash
Temuera Morrison as J'onn J'onnz/Martian Manhunter
Powers Boothe as Darkseid (CGI/Motion capture)
Ron Perlman as General Rick Flag
Gary Oldman as Jim Gordon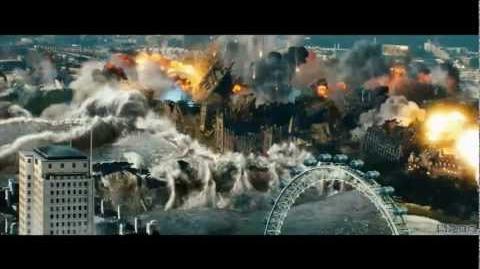 Community content is available under
CC-BY-SA
unless otherwise noted.