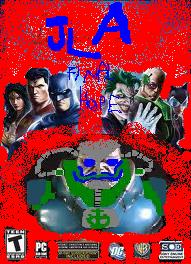 JLA: Final Hope
is a video-game taking place between
JLA: The Movie
and
JLA: Injustice
, though it isn't canon. Its for PS3, Xbox 360, 3DS and Wii. There are 19 playable characters, but you can not choose who to play as in story mode, only in the other 3 modes.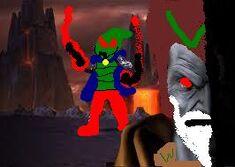 Recruits Mode
Edit
Do multi-player with other players across the globe or even in your neighborhood.
Free-Play Mode
Edit
Go through your favorite levels as unlocked characters or anyone you want.
Story Mode
Edit
Play all the game's levels as you go on an epic adventure as the Justice League America!
Rise To the Top Mode (3DS Only)
Edit
Defeat enemies as you compete in an all-out battle royale!
Characters/Voice Cast
Edit
| | | | |
| --- | --- | --- | --- |
| Name: | Voice Actor: | Moves: | |
| Superman | Kevin Conroy | Signature: Laser Eyes. Special: Fist of Steel. "Justice Smash": Last Son of Krypton | |
| Batman | Kevin Conroy | | |
| Wonder Woman | Tricia Helfer | | |
| Green Lantern | Josh Keaton | | |
| Aquaman | Rick D. Wasserman | | |
| Green Arrow | Chris Cox | | |
| Firestorm | Nolan North | | |
| Amazo | Tom Kane | | |
| Martian Manhunter | Dorian Harewood | | |
| Darkseid | | | |
| Ares | | | |
| Nightwing | | | |
| Doomsday | | | |
| Azreal | | | |
| Weather Wizard | | | |
| Etrigan The Demon | | | |
| Red Tornado | | | |
| Livewire | | | |
| Blue Beetle | | | |
| Badra | | | |
| Parasite | | | |
| Bane | | | |
| Bizarro | | | |
| Deathstroke | | | |
| Joker | | | |
| Lex Luthor | | | |
| Flash | | | |
| Catwoman | | | |
| Booster Gold | | | |