Streets of Gotham is a sequel to Gotham Knight. It features the returns of William H. Macy, Eric Bana, Wesley Snipes, Larry Lamb and Blake Lively.
Streets of Gotham

Official movie poster

Title:

Streets of Gotham

Cast:

Eric Bana, Logan Lerman, William H. Macy, Larry Lamb, Wesley Snipes, Adrien Brody, Mark Strong, Kevin Spacey

Previous Film:

Next Film:

Creator:

Rated:

PG-13
Opening Credits: TBA
Eric Bana - Bruce Wayne / Batman, the hero. He has sworn to avenge his parents' deaths and fight crime.
Logan Lerman - Tim Drake / Robin, an orphan adopted by Bruce Wayne. Alfred sees potential in Tim and asks Bruce if he's ready for a second Robin. Bruce isn't ready, though, after what happened to Jason Todd. However, while doing chores Tim discovers an entrance to the Batcave. He wants to avenge his parents' deaths as well, and takes the old Robin costume, then changes it by hand and becomes the new Robin.
William H. Macy - Comissioner James Gordon
Seth Rogen - Harvey Bullock
Blake Lively - Vicki Vale
Matt Damon - Harvey Dent
Bradley Steven Perry - 10 Year Old Bruce Wayne (flashback only)
Angelina Jolie - Martha Wayne (flashback only)
Clive Owens - Thomas Wayne (flashback only)
Wesley Snipes - Lucius Fox
Will Smith - Younger Lucius Fox (flashback only)
Norman Reedus - Joe Chill
Larry Lamb - Alfred Pennyworth
Aaron Eckhart - Younger James Gordon
Adrien Brody - Dr. Johnathan Crane / Scarecrow, the main villain. He is a doctor at Arkham Asylum obsessed with fear. He secretly tests out his "fear gas" drug on his patients before becoming a masked crime-lord. His plan is to get the fear gas (under the fake title "Ri0t") to spread through the underworld. When Batman tries to stop him, he recruits Victor Fries and Jervis Tetch to help him in case Batman shows up to stop him.
Mark Strong - Jervis Tetch / The Mad Hatter
Kevin Spacey - Victor Fries / Mr. Freeze
Jackie Earle Haley - Waylon "Croc" Jones, a cannibalistic patient from Arkham Asylum with the real-life disease Harlequin type ichthyosis, with scale-like skin and eyes grown inward. He breaks out and eats two guards, and grabs a knife and threatens to kill a guard (he captured 12) everytime he sees anything that even looks like a bat. The incident gets the attention of Batman and Dr. Johnathan Crane. Batman sneak attacks and knocks out Waylon, who becomes Johnathan's latest patient as well as Scarecrow's latest victim.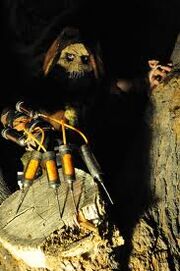 Sound Track
Edit
| Song: | Name: | Notes: |
| --- | --- | --- |
| Black Sabbath Iron Man Lyrics | Iron Man | Plays during the ending credits |
| This Is Halloween - Lyrics | This Is Halloween | Scarecrow's Theme |
| Queen We Will Rock You Lyrics | We Will Rock You | |
| Ghost Riders In The Sky Lyrics | Ghost Riders In The Sky | Plays during the opening credits and during the fight with Mad Hatter |
| TBA | | Mr. Freeze's theme |
| TBA | | Mad Hatter's theme |
Community content is available under
CC-BY-SA
unless otherwise noted.